WAIT…did somebody say holiday contest?!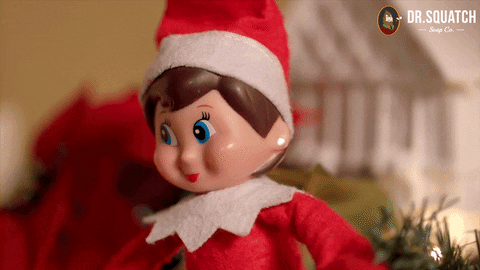 Nothing captures the magic of Christmas quite like the holiday tradition elf on the shelf! So, when Susanna Hill posted the rules for her holiday writing contest I knew I wanted to incorporate our little elf friends!
But, first let's hear the rules:
1. Kid-appeal! – These stories are intended for a young audience (ages 12 and under), so we're looking for stories that children will enjoy and relate to.
2. Holiday Contest! – the rules state a Holiday Contest story, so it must be crystal clear that the story is about a contest that in some way relates to Christmas, Hanukkah, Kwanzaa, Winter Solstice, New Year's, or whatever seasonal winter holiday you choose. The story must center on the contest – the contest must not be just an offhand mention/reference in a story about something else.
3. Quality of story – entries must tell a story, including a main character of some kind and a true story arc even if it's tiny Entries must not be merely descriptions or mood pieces.
4. Quality of Writing: check your spelling, grammar, punctuation etc. If you're going to rhyme, give us your best Overall writing quality and use of language are also important. Please proofread!
5. Originality and creativity – because that is often what sets one story above another.
6. PLEASE FOLLOW THE DIRECTIONS! Large numbers of entries make it easy to cut entries that haven't been entered as we asked.
Now, I bet you're just dying to see how I included scout elves into my entry for the Holiday Contest 2021. My inspiration for this piece came from the song "Santa Clause is Coming to Town" paired with my daughter welcoming her first elf to the family – Jingle!
Hope you enjoy!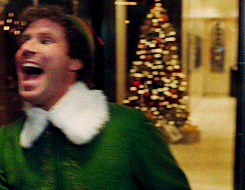 The Better Elf on the Shelf
Word Count: 242
Santa Claus was coming to town…
and Wink and Trixie were up to their stockings in holiday horseplay!
Wink was all never-not naughty while Trixie was all sugar-and-spice nice.
But, they couldn't help but wonder who was the BETTER elf on the shelf?
There was only one way to find out…
"How about a little holiday contest?" Trixie asked.
Without another word, Wink marched to the treat dish and unwrapped a chocolate candy.
He playfully plopped it in the toilet bowl – a sly grin covered his face.
"Ha! Wink ONE..and Trixie NONE!" he shouted.
I better not pout, Trixie thought.
I can do better…no doubt!
She hustled to the kitchen and sprinkled handfuls of powdered sugar snow from the canister.
Lying down, she waved her arms and legs – an angelic smile covered her face.
"WINNER, WINNER CHRISTMAS DINNER!" Trixie cheered.
I better not cry, Wink thought.
I can do better if I try!
A roll of toilet paper in his hand, Wink shimmied up the Christmas tree branch by branch until…
"OH, JINGLE BELLS!"
He tumbled down,
down,
down…
Snow flurries fluttering in her belly, Trixie hurried over.
"Maybe it's not about who is better…" Wink said. "I think it's best if we work together!"
So, the elves shook on it.
The next morning, merry footsteps rushed down the stairs.
Wink and Trixie's kids discovered them having snow much fun, armed with fluffy marshmallows.
"A snowball fight!" they all cheered.